Press Releases
DES MOINES REGISTER NAMES EXPRESS LOGISTICS A WINNER OF THE STATE OF IOWA 2015 TOP WORKPLACES AWARD
09/10/15
Express Logistics, Inc. has been awarded a 2015 Top Workplaces honor by the Des Moines Register. Express Logistics was named as the #21 top workplace in Iowa for the Small Business category.
The Top Workplaces lists are based solely on the results of an employee feedback survey administered by WorkplaceDynamics, LLC, a leading research firm that specializes in organizational health and workplace improvement. Several aspects of workplace culture were measured, including Alignment, Execution, and Connection, just to name a few.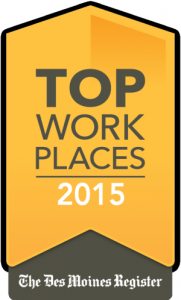 "The Top Workplaces award is not a popularity contest. And oftentimes, people assume it's all about fancy perks and benefits," says Doug Claffey, CEO of WorkplaceDynamics. "But to be a Top Workplace, organizations must meet our strict standards for organizational health. And who better to ask about work life than the people who live the culture every day—the employees. Time and time again, our research has proven that what's most important to them is a strong belief in where the organization is headed, how it's going to get there, and the feeling that everyone is in it together. Claffey adds, "Without this sense of connection, an organization doesn't have a shot at being named a Top Workplace."
"Since the founding of Express Logistics, we have maintained a strong focus on our people. And as we continue to grow, we concentrate on our core values and support our people with the proper training and resources," says Chad Rubner, president and owner of Express Logistics. "Being named a Top Workplace shows that we are doing it right. Knowing that we compare to the very best, and that this is through the direct feedback of our employees, is a great accomplishment."
View the full Top Workplaces list here.
Express Logistics is aggressively growing and continuing to hire. View career opportunities.
About Express Logistics, Inc.
Express Logistics, Inc. is an award-winning third-party logistics (3PL) provider. Our brokerage services include LTL, truckload and intermodal. Express Logistics was ranked in the 2015 Inc. 5000, placing us as a top logistics and transportation company as well as the No. 6 fastest growing private company in Iowa. At Team ELI, we deliver on our promises while building an environment where our employees love what they do and have fun doing it. Express Logistics offers professionalism combined with nationwide sales opportunities without territories, and we are a strong promoter of work/life balance (no weekends!). We are family owned and our corporate office is located in Waukee, Iowa.
About WorkplaceDynamics, LLC
Headquartered in Exton, PA, WorkplaceDynamics specializes in employee feedback surveys and workplace improvement. This year alone, more than two million employees in over 6,000 organizations will participate in the Top Workplaces™ campaign—a program it conducts in partnership with more than 40 prestigious media partners across the United States. Workplace Dynamics also provides consulting services to improve employee engagement and organizational health. WorkplaceDynamics is a founding B Corporation member, a coalition of organizations that are leading a global movement to redefine success in business by offering a positive vision of a better way to do business.