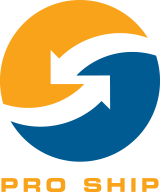 Express Logistics revolutionizes the way companies manage their freight solutions.
Our Pro Ship technology is a state-of-the-art freight management solution that allows you to automate and integrate your freight management process. The web-based tool allows you to manage the logistics process more efficiently and effectively, saving time and money! Pro Ship is your one-stop solution for quoting, booking, tracking, and reporting.
IN A MATTER OF SECONDS, PRO SHIP WILL PROVIDE YOU:
Pricing and transit times from the industry's best carriers
Direct and indirect points for each carrier
Single-source reporting and tracking
Electronic shipping documentation
AND ALLOWS YOU TO:
Reduce overall freight and labor costs
Improve service with more carrier knowledge
Immediately invoice your customer for shipping charges at point of sale
Control the cost of inbound freight shipments from your suppliers
Rate It. Book It. Manage It!
Pro Ship simplifies the freight management process, saving you an average of 15-20%. The easy to use interface allows you to get a rate quote in seconds, identify the best carrier solution, book it, and then manage the billing and tracking. When you need it now, Pro Ship delivers!
Learn More
Real Time Analytics
Pro Ship offers real-time analytics, including single-source reporting and tracking. There's no other freight management software that offers you a better analytics and reporting features. Its intuitive interface allows you quickly access information on one or all parts of the shipment. When you need it now, you get it with Pro Ship!
Integrated Solutions
Pro Ship is your ultimate, integrated solution for quoting, booking, bill of lading, tracking and complete freight management. Integrate Pro Ship with your company's ERP or legacy tools to streamline productivity and reduce data-entry errors. Whether you need to retrieve rates, book shipments, track an existing order, or do something completely custom, we can align your current business processes with our TMS, so you can focus more on your product and less on shipping.
If you can answer yes to any of these questions, we should talk.
Do you contact multiple carriers to get quotes?
Single Source Quoting
Don't spend your valuable time searching for the best price. Express Logistics has discounted pricing with over 35 of the top regional and national LTL carriers in the industry. Our buying power allows us to offer significantly lower pricing than what most small businesses can negotiate. Whether you need a regional carrier for a short haul lane or a national carrier for a coast to coast move, you can access extremely competitive options within seconds using Express Logistics' Pro Ship software.
Do your vendors control the inbound freight that you pay for?
Lower your inbound freight costs and gain visibility!
Take advantage of our Freight Routing Program. By gaining access and understanding of your inbound deliveries, we can help you reduce costs, improve service, minimize delays, reduce confusion, and raise overall performance.
Control your inbound freight process without doing any of the work! Simply code your purchase order so that vendors call Express Logistics for routing instructions. Then we'll pick the carrier based on agreed upon business rules, allowing you to benefit from carrier optimization and control costs.
Do you bill your customers back for freight on a prepaid and add basis?
Invoice your customers faster, easier, and with accuracy.
With our single source reporting, your accounting department can receive shipping charges as soon as shipments are processed in Pro Ship. You can receive data through Pro Ship or have reports emailed to appropriate departments. The reports allow you to create a more efficient internal process to invoice your customers faster, easier and with more accuracy.
Do you pay more than one freight invoice a week?
Pay one single invoice!
It is estimated that companies spend approximately $8-10 processing a single carrier invoice. Express Logistics can help you reduce time and money spent on processing invoices. We provide a single consolidated invoice on a weekly basis for all shipments, and we pre-audit them for you. You will receive all pertinent details on a per shipment basis, including PO numbers and sales order numbers. Invoices are provided by email unless US mail is requested.
Do you have consistency when charging shipping and handling fees to your customers?
Automate your handling fee process!
Most businesses try to recover handling costs associated with shipping freight. This process can often get overlooked, which leads to lost revenues. Pro Ship can automate this process for you by adding the functionality into the system. A handling fee can be added on a per shipment basis, or it can be hard coded and added to every shipment that is processed. The handling fee can be either a percentage of the shipment cost or flat fee.
Do you allocate freight costs utilizing purchase orders and/or sales order numbers?
Cost allocate all shipments easily and efficiently!
Do you have a hard time getting consistent data when working with multiple freight carriers? Trying to enforce compliance can be difficult when each carrier has a different process. Express Logistics can help you efficiently manage data to cost allocate freight charges internally. Whether you need a purchase order number for an inbound freight shipment or a sales order number for an outbound freight shipment, Express Logistics can help you receive the information in a consistent and efficient manner. All reports, bill of ladings, and invoices that are generated out of Pro Ship will include these reference numbers on the shipment, allowing your accounting department to allocate freight costs easily and efficiently.
Do you currently file your own claims?
We can help manage your claims.
Claims can be difficult for everyone involved. Our goal is to help facilitate a fast, easy process to receive a resolution between you and the carrier. Express Logistics utilizes a claim form called EZ Claim which is universally accepted with all of our carrier partners for claim processing. The system allows us to file the claim properly and manage all aspects of the claim on a timely basis for you.
Do you hand-write your bill of ladings?
Automated bill of lading
When the shipment is created in Pro Ship, the system will automatically create a bill of lading document, which speeds up the process and reduces costly manual errors.
Can you provide customers with advanced shipping notifications?
Advanced shipping notifications
Pro Ship easily integrates into existing ERP or legacy systems allowing you to provide customers with advanced shipping notifications. Contact Express Logistics today for a complete assessment on data flow integration with your current ERP or data management system.