Press Releases
Express Logistics Celebrates 15 Years Anniversary
06/07/18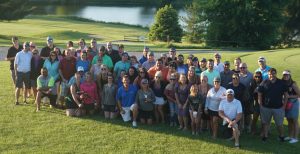 Express Logistics celebrated its 15 year anniversary on June 1, 2018. Founded in 2003 by Chad and Emily Rubner, the company specializes in LTL, truckload and intermodal freight solutions.
The 15 year anniversary was the same week as the company's annual golf outing, so much of the company and their significant others were able to attend and help celebrate.
Express Logistics has experienced another successful year of growth, now employing more than70. The company has followed an aggressive growth plan and expects to hire a total of 20-25 employees by the end of 2018. Much of this growth is through hiring additional sales and supportive roles.
"I'd like to thank our team for their continued hard work and dedication," said Chad Rubner, president of Express Logistics. "At the office, we follow a set of core values: Own It, Hustle, Do What's Right, and Never Quit Learning. I know that our success is thanks to everyone's daily commitment to these values; it's what makes ELI successful and such a great place to work. I'd also like to thank our customers for their continued business. We look forward to another great year."
About Express Logistics
Express Logistics, Inc. is an award-winning third-party logistics (3PL) provider. Our brokerage services include LTL, truckload and intermodal. Express Logistics was ranked in the 2016 and 2015 Inc. 5000, placing us as a top logistics and transportation company as well as one of the fastest growing private companies in Iowa. Express Logistics has also been named one of Iowa's Top Workplaces for 3 years in a row by the Des Moines Register. At Team ELI, we deliver on our promises while building an environment where our employees love what they do and have fun doing it. We are family owned and our corporate office is located in Waukee, Iowa.